Square sealing braid
We manufacture the square sealing braid by braiding together technical fibers (Kevlar®, PTFE, Polyester, Polypro…) with or without lubricant, over a core of reinforced material.
The result is a flexible and resistant square section gasket, which is used in the industry or in the fittings. Depending on the materials used, a square braid is obtained that is resistant to heat, chemicals, pressure and mechanical stress.
The manufacturing of the joint is carried out in our workshop according to the specifications of your book of specifications, after analysis of our research department. Do not hesitate to contact us to know all the possibilities (production from 200 meters, by reference and color).
In addition to square seals, we also manufacture round sealing braids for industrial applications.
To request a sample or a price list, click here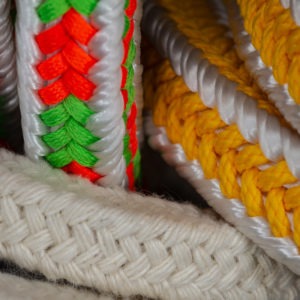 Features
Other materials and sizes are available upon request.
See also