Round sealing braid
A special braiding of technical fibers such as glass yarn, aramid, Kevlar®, teflon, polyester… allows to obtain a round sealing braid, supporting large temperature variations and resistant to chemicals.
This sealing braid is manufactured in our workshop in France, in the heart of the Auvergne region, and is used as a thermal seal in oven doors, boilers, inserts, windows, etc. It is very flexible, easily compressed, and lends itself well to custom cutting, while scrupulously respecting your specifications.
We offer several diameters of sealing braids, as well as square sealing braids for specific needs.
Do not hesitate to contact our technical team for any information on the manufacture and characteristics of this type of industrial braid (production from 200 meters, by reference and color).
To request a sample or a price list, click here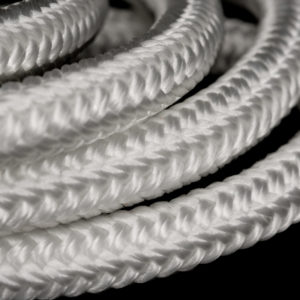 Features
Other materials and sizes are available upon request.
See also