Hypoallergenic elastic band
Recognized specialists in elastic braiding, we offer a complete range of latex-free hypoallergenic elastic cords and braids for specific uses in the clothing, sportswear and medical sectors.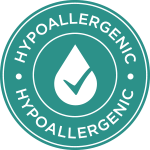 To replace natural latex and avoid the presence of proteins that cause allergies and irritations on sensitive skin, we use elastane or synthetic polyisoprene (IR) yarn for medical use.
Elastane is a synthetic fiber that is very elastic, light, strong and hydrophobic, ideal for the manufacture of lingerie elastics or reusable mask elastics. Very comfortable, it is frequently used in sportswear and underwear.
The polyisoprene we use is a highly elastic, washable, chlorine and salt resistant component that is easy to sterilize and soft to the touch. It is ideal for the manufacture of flat bands and elastics for medical use.
Our hypoallergenic elastic can be braided as a cord or flat braid in many sizes. It can be mixed with other materials, to create personalized patterns and colors, in phase with a brand.
Our team is at your disposal to inform you about the creation of a hypoallergenic elastic in elastane or polyisoprene, rigorously respecting your specifications (production from 200m, to the reference and color).
To request a sample or a price list, click here
Features
Other materials, colors and sizes are available upon request.
See also