Overbraiding on electrical cable
The addition of a textile sheath on an electrical cable significantly improves the aesthetics and brings a mechanical reinforcement on the cable, as well as a thermal or magnetic protection, and an improvement of the sealing, according to the needs.
Many colors are available to braid a textile sheath that will best respect the design of your project (lamp, light fixture, household appliance, audio equipment…). The braiding of the electrical sheath is 100% done in our workshop in the heart of Auvergne, to obtain a design and robust power cable.
Our team is at your disposal to design a custom-made textile sheath for all types of cables, strictly respecting the specifications of your specifications. We also offer the manufacture of protective sheaths for tubes and rods.
To request a sample or a price list, click here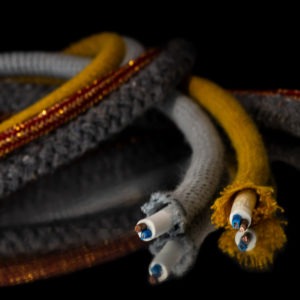 Features
Other materials, colors and sizes are available upon request.
See also